When:
June 10, 2017 – June 12, 2017
all-day
2017-06-10T00:00:00+09:30
2017-06-13T00:00:00+09:30
This  year sees a significant change of date for the Barmera Trial with a move to the June long weekend.  For all the country music buffs out there you can now combine your loves of music and sheepdog trialing, as the trial now coincides with the South Australian Country Music Festival, also held in Barmera.
On Saturday morning visitors will flock to the main street of Barmera for the running of the sheep, with the trial beginning on the oval after lunch.
Contact Bob Clark – 08 8588 2559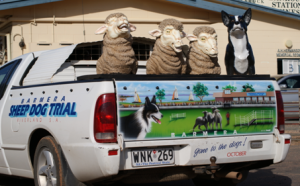 Accommodation
Competitors are welcome to camp by the trial grounds at no cost, with power supplied.
There are also free camping opportunities on the lakefront for those who are self sufficient.
If you would like to find other accommodation please BOOK NOW as it may be difficult to find a vacancy if left too close to the date.